Manufacturing ERP Software
Simple and easy Manufacturing ERP for complex production processes.
Customize the ERP for the different needs of the manufacturing industry.
Use ERP for a seamless production cycle.
Manufacturing
ERP Modules
---
The manufacturing industry consists of a number of processes and operations necessary for business and production, from purchasing raw materials to delivering the finished product. We need to align the employees' schedule, the free space of the workstation, the availability of raw materials and many more. ERP software for the manufacturing industry plays an important role in managing and controlling all manufacturing processes and eliminating the complexities of operations. TheERPHub ERP is the best manufacturing software which has integrated modules for various departments to make production easier. TheErpHUB's Production mobile application is helpful for accessing ERP data from the factory or workshop where the computer is not available.The Material Requirements Planning (MRP system) module allows efficient scheduling, production planning and stock control to simplify manufacturing processes. It optimizes inventory levels, minimizes the delivery times and maximizes service levels to increase business efficiency. It provides cloud based manufacturing software and on premises erp software for small manufacturing businesses as well.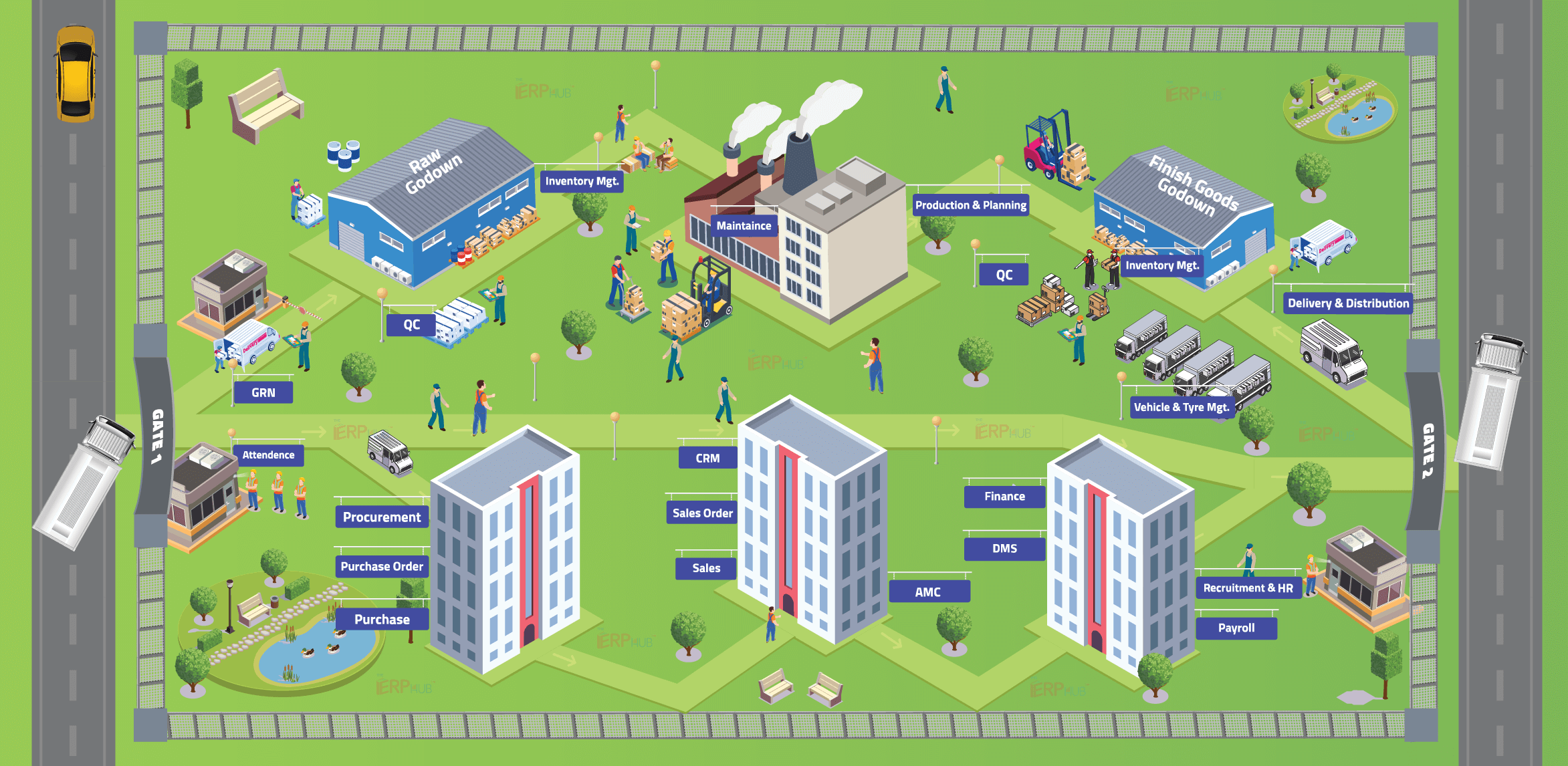 CRM
Auto Deal Creation through Email Integration
Sales Order Management
Create Order from Quotation
Lock Inventory based on Orders
Partial / Full Order Cancellation
Purchase Order Against Order
Sales Representative Wise Orders
Delivery & Distribution
Truck Hire with Transport Detail
Create Delivery Challan from Order
Eway Bill Integration with Delivery Challan
Sales
Create Invoice from Delivery Challan
E-Invoicing & E-Way Bill Integration
Procurement Management
Partial / Full Purchase Order Cancellation
Inventory & Quality Control
Attribute Based Stock Management
Batch - Expiry wise Stock Management
Godown / Site wise stock Management
Goods Receive Note (GRN/MRN)
Service Entry Sheet (SES)
Physical Stock Verification
Godown to godown Transfer
Godown wise order level Report
Purchase
Purchase Invoice (URD/ Composition)
Purchase Invoice (Exempted)
Purchase Material Analysis
Finance
Financial Sub Group Report
Bills Receivable / Payable
Production Planning
Material Estimation Based On BOM
Pending QC (Material Produce)
Process Wise Wages Report
Production Calculation Report
Annual Maintenance Contract
Service Request Management
Engineer Service Request Allotment
Document Management(DMS)
Public / Private / Self DMS Category Creation
Integrated with All modules
Order and Drawing documents
Notification & Communication
In-app Notification System
HR & Recruitment
Interview Round Management
Question Management System
Auto resume allotment with email integration
Employee Referal Resume Collection
Social Media API Integration
Employee Registration & On board Activities
Consultant Login with Job Management
Attendance
Leave Approval Management on Email
Microsoft / Google Calendar Integration
Attendance RFID Device Integration
Payroll
Allowance Deduction Group
Employee Salary Structure
Monthly Salary Calculation
Add-on Modules
Employee / Client Target Management System
Marketing Expense Management
Quick Employee Attendance
Labour Attendance & Salary
Customization
---
Let's discuss your Business Requirements, analyze your needs & provide Customized ERP solutions, which suit best to your business.
Let application
Works for you

rather




you work

according to application.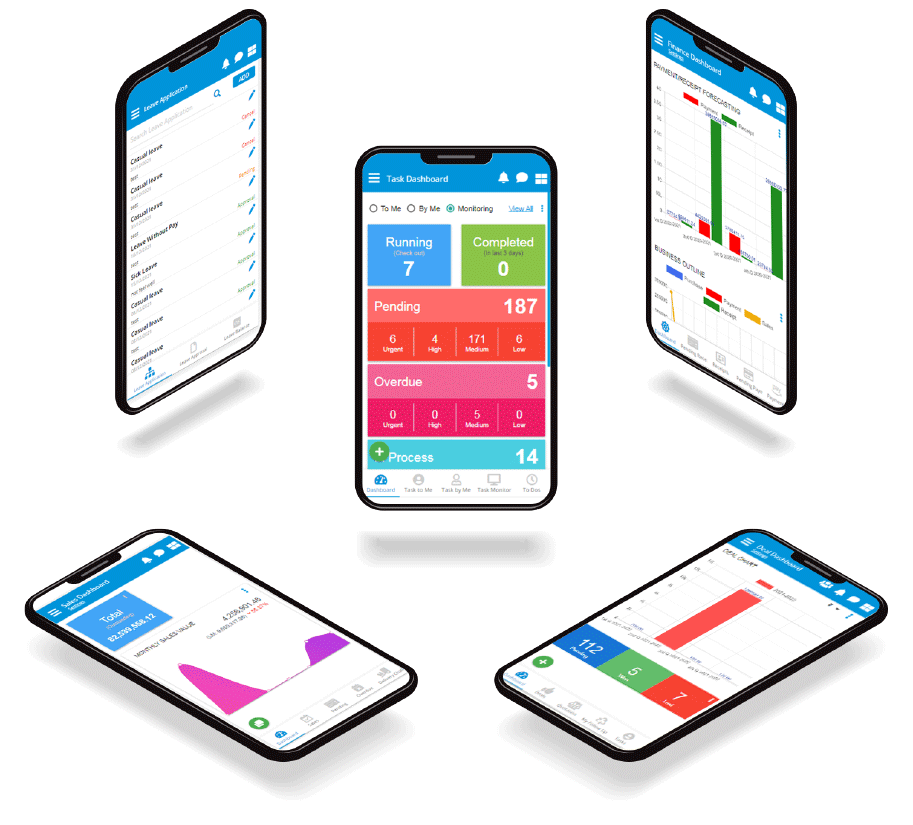 Increased productivity, decrease business downtime, Access your TheERPHub - ERP on your mobile, no matter where you are.Utilize your time while travelling, waiting for meetings, sitting in a warehouse, factory or sales field, get ready with your Order Sales Data, outstanding payment information, Stock availability, keep track of production Employee Tracking.
Follow-Up Using Mobile App

Print and Export Documents

Smart Lead Generation Via Email Reading
Auto Email With Configuration

Dynamic Calender View with Sharing

Email / WhatsApp / SMS Integration

Resume collection via Email Reading
Cloud Based ERP
---
Cloud ERP is Software as a Service (SaaS), Users can access the Enterprise Resource Planning application over the Internet.
Mobile Applications
---
Every Module is having individual Mobile Application.
Scalability
---
Integrated solution with Modular Approach.
Fast and Affordable
---
Easily access all the necessary feature to make business smooth at one centralized system for a low cost.
No Maintenance
---
No installation, no specific hardware required, run from any browser enable devices.
Accessible Anytime, Anywhere
---
We can access ERP anytime on any kind of device.
Customized Solutions
---
Different business different requirements, To scale your business, we can tailor your need into TheERPHub Application.
Auto Backups
---
Business data is too crucial, so automatic data backup is set for every 24 h. Data Redundancy is set for 3 storage drives.
Online / Offline Support
---
For successful implementation of ERP, we provide remote support, phone support and offline support.
Secure and Reliable
---
Data security is on going concern, we used the worlds best cloud to host your data safely.
Real Time Information
---
You can access modified data immediately, So it makes your business well organized.