TheERPHub is designed in a manner toward sustain the information extremely protected. We have an entire team working on maintaining the security system at its best throughout. Since all the business data like the financial reports, other business documents, account are all stored in the cloud software, we make certain so as to the software does not hit by any kind of malware.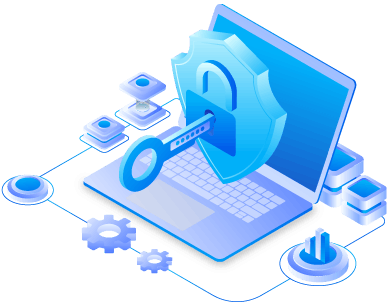 Features
---
We are using below technologies to boost the security of our servers.

Database Security
Every client registered with us is having separate database for their data storage. We are using constantly replicated data storage services so your data is safe and secure. It replicate data within few micro seconds to different zone of the world. Data Storage is having auto healing services so if something goes wrong it will be heal automatically most of the time. Daily data storage snapshots are also going on for any kind of disaster management. Data storage is only accessible by TheERPHub Cloud servers for security and also it has different compute power so its performance is high. TheERPHub is a distributed architecture. Application, File Storage and Database runs on different environment so it will give you more secure, high performance while accessing application.
Cloud Server
We use elastic cloud servers, which is on demand means if load increases it will auto increase server capacity in different zones and if load decrease it will auto decrease server capacity. Load and Usage are constantly monitored. To handle disaster management, we have enabled triggers and other alerts.
File Storage Security
Every client registered with us is having separate folder for their file storage and folder is accessible only by them. So no one can access the file storage. File storage is 99.999999999 % secure as it auto replicate file in different zones of the world as soon as you upload it. So its robust and secure. It can be only accessible by TheERPHub web or mobile applications only.
Accessing Resources
We are using latest OAuth2.0 protocol to access resources from TheERPHub Web and Mobile Applications. It is token based system which allows sharing resources without sharing credentials. Token get expired every few minutes and regenerated again, this helps to maintain high security.
Security
---
Key security features which prevent unauthorized access to web and mobile application.

User Rights
Administrator can set the user permissions for Add/Edit/View/Delete/ Export-Print for each document(Menu) of the software. So unwanted access to the document can be avoided and user should access only data which are visible to him.

Access Log
Application keeps track of who has access what and on which time from which application. Also how much time he/she spent on the system etc.

IP Restrictions
It is an optional process but to make Web and Mobile Applications more secure, we have introduce IP Restricted Security in which you can add multiple IPs to IP Restriction module so users can access the application if they
are opening applications from those IPs only. You can have public access users so irrespective of IP restrictions they can access application from anywhere. IP restrictions can be applied on Web and Mobile Application both.
So even mobile applications like Store Mobile Apps, Production Mobile Apps can be accessible if Mobile are connected to company network only.