Insightful Reports,
Discover The Beauty Of Data
Witness the Exquisite Beauty of Our ERP Solution, Elevating Your Business to New Heights. Experience a Smooth and Enjoyable Life.
---
All

Manufacturing

Trading and Distribution

Service

Transport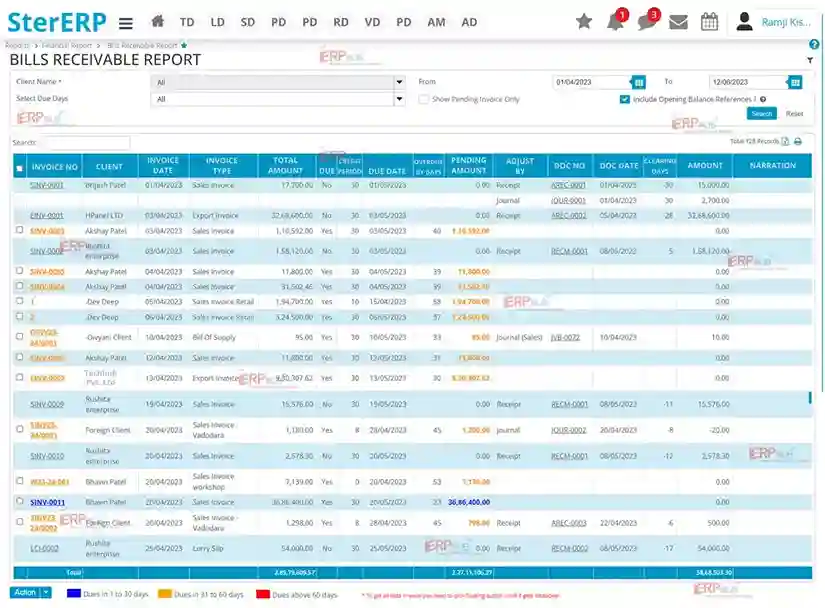 Bill's Receivable
The system provides a comprehensive display of sales invoice amounts, including their credit period and overdue days. Additionally, it presents adjusted vouchers with information on their clearing days and pending amounts. The system also generates an aging report with color coding for easy interpretation. Moreover, it offers the convenience of generating receipts directly from the form itself. Furthermore, the system has a built-in feature that allows the aging report to be displayed with colored visuals.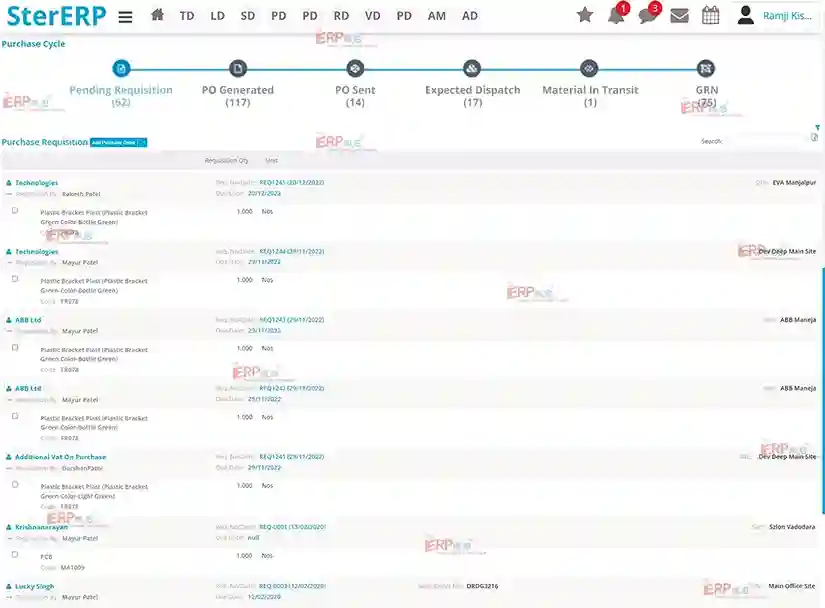 Purchase Cycle
An integrated solution with a unified view and action screen to effectively manage the entire purchase cycle. Seamlessly handle processes from purchase requisition to material transit, culminating in goods receipt. Enhance efficiency and control with streamlined workflows.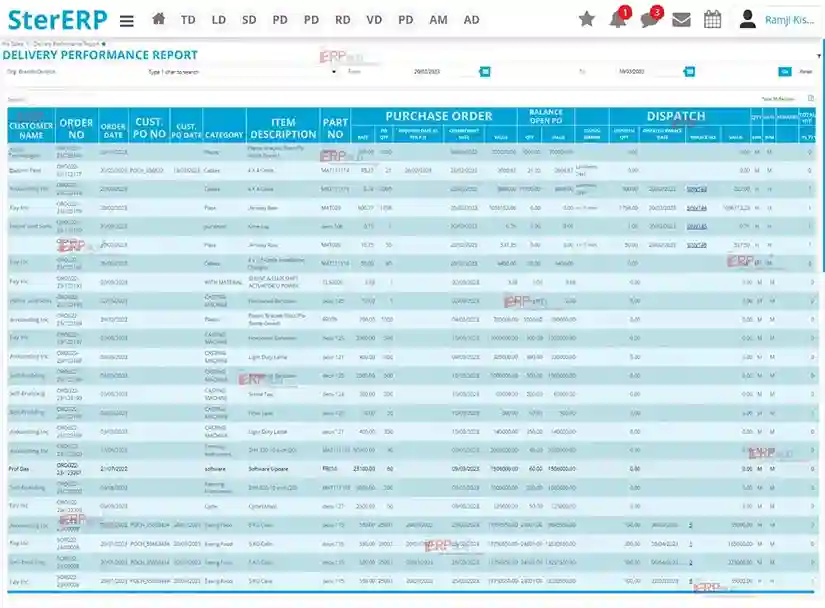 Delivery Performance Report
The consolidated sales order view offers a single-screen display of sales order details, open order details, commitment dates, dispatch information, and Hit or Miss status based on customer delivery dates per material. It also includes pending sales order data and provides a total hit metric to assess dispatch performance. This comprehensive view streamlines order management and enhances decision-making.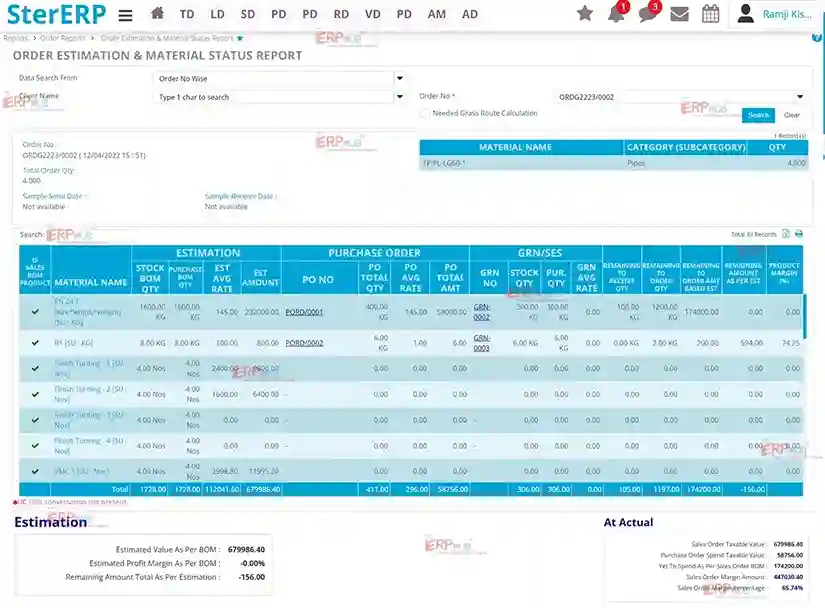 Order Estimation Report
The estimation for a sales order is calculated based on the connected Bill of Material (BOM). The system displays relevant details such as Purchase Orders raised for each BOM, materials received against the BOM, and the remaining quantities to be ordered and received. This consolidated view also presents the profit or loss against each material in the BOM and the overall profit for the entire order, allowing users to assess the estimation's alignment with the current profit status.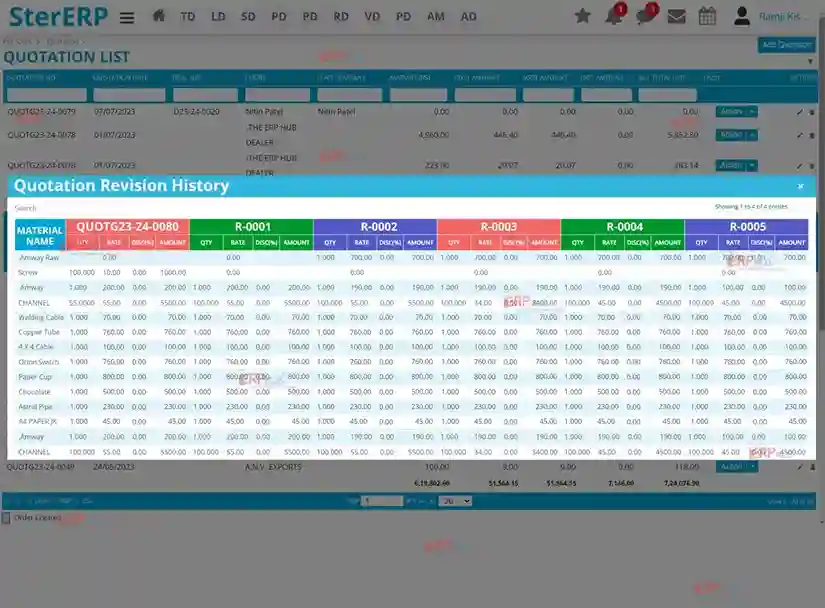 Quotation Revision History
In various business settings, sending multiple quotations for negotiation is standard practice. The Revision history feature provides a comprehensive view of material-wise negotiations, displaying discounts and amounts for each quotation on a single screen. It offers an overview of the deal's progress, showing date-wise changes in material quantity, discount, and total amount for each quotation.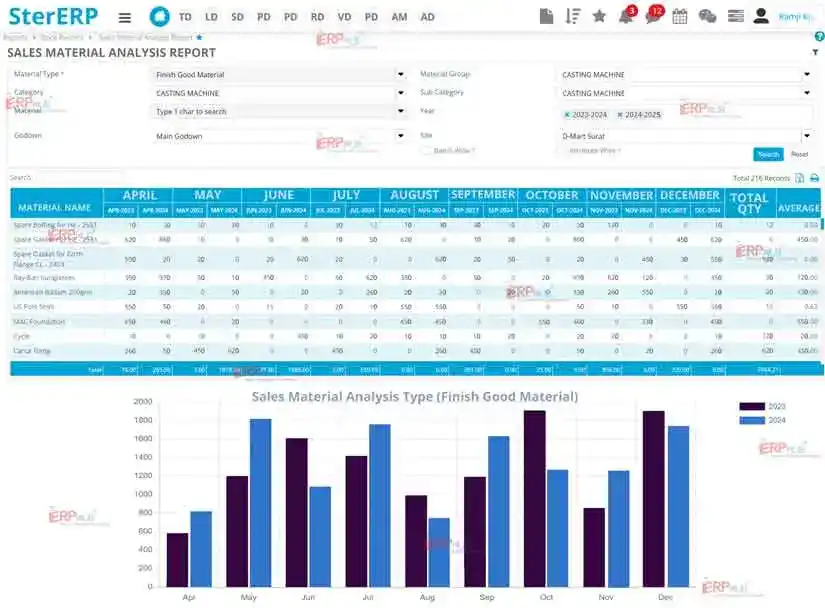 Sales Material Analysis Report
The sales analysis report provides a monthly overview of product sales, presenting material-wise data with multi-year comparisons. Users can apply filters based on material type, group, category, sub-category, and godown. The report also generates charts that offer visual comparisons based on the selected filters.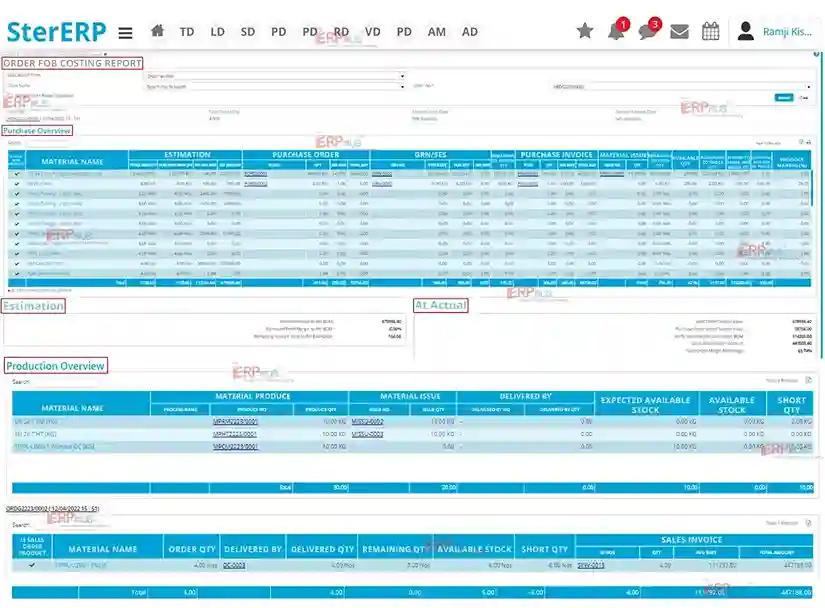 Order FOB (End to End Overview)
A powerful single-screen display that encompasses customized BOM data, including estimations, purchase orders (POs), goods receipt notes (GRNs), material consumption in production, material production, delivery challans, sales invoices, inventory status, and pending production. Streamline your workflow and gain comprehensive visibility into your entire production and sales cycle.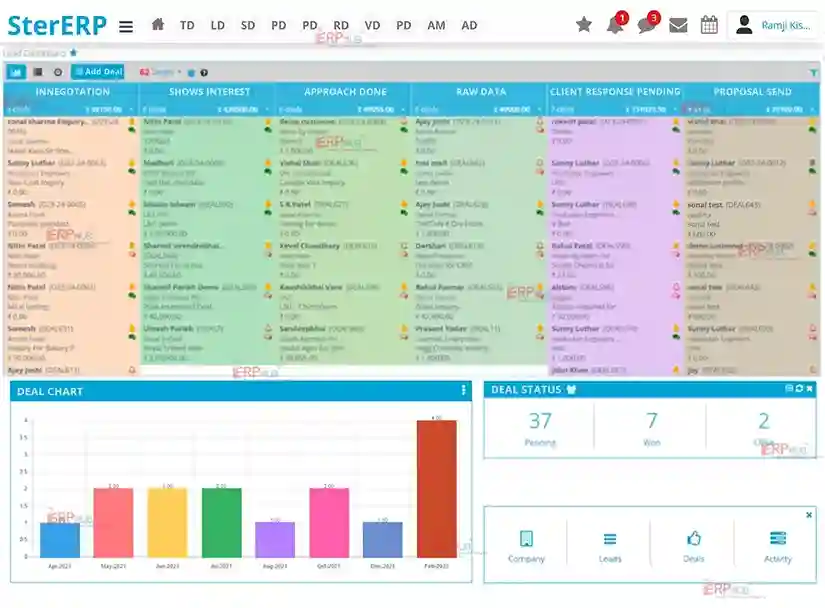 Lead (Inquiry / Deal management System)
Experience efficient inquiry management with built-in features such as follow-ups, comments, and versatile views like single-click pipe view, table view, and timeline view. Enjoy flexible data loading options based on individual, hierarchical, or all user rights, enhancing your workflow and organization.