Transport Management System
Freight & Fleet management.
Vehicle & Tyre management.
Fuel management.
E-way Bill and E-Invoices.
Logistics is a highly competitive sector where changing market conditions and customer demands are pushing harder than ever before.This impressive digital technology redefines how a business can better manage its logistics and transport organization.
Real-time information is extremely useful for logistics activities.
TheERPHub is a cloud based transport management system that handles all the aspects such as tyre tracking, Vehicle parts and service, vehicle insurance, Fuel filling and oil change, Vehicle Contract and vehicle hire bill, vehicle inspection, Commission agent,Commission Memo, lorry slip, Broker Bill, Transport bill, LR, Delivery order, Transport Challan, Gate pass creation, GST billing, Accounting & finance management. It has all the functionality that the best transportation management software should have like,
Multiple User management with rights,
Multiple departments,
Multiple branch Management,
Multiple Godown,
Consignee & Consigner management,
Delivery orders, Gate pass creation, Challan entry,
Load multiple consignments in a single truck,
Full Truck Load and Part Truck Load Option
Proof of Delivery in a single process.
Auto mailing of reports to the client as per requirement.
Upload POD using Mobile App.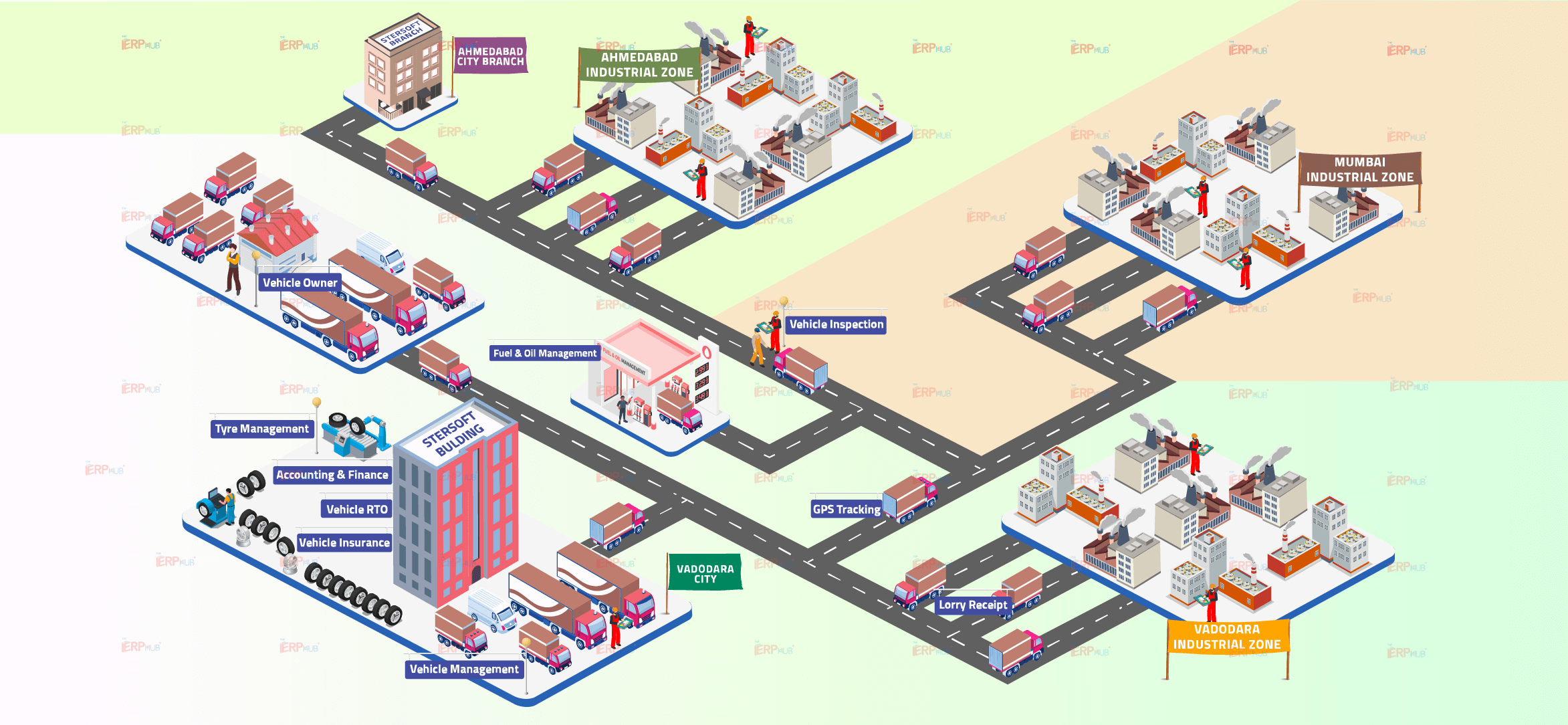 Logistics & Fleet Management
Tyre Management
Toggle Tyre With In Vehicle
Toggle Tyre with Other Vehicle
Tyre Location History Management
Tyre NSD & PSI Information
Tyre Total KMS running Managment
Scraped Tyre Sell information
CRM
Auto Deal Creation through Email Integration
Finance
Financial Sub Group Report
Bills Receivable / Payable
Document Management(DMS)
Public / Private / Self DMS Category Creation
Integrated with All modules
Order and Drawing documents
Notification & Communication
In-app Notification System
HR & Recruitment
Interview Round Management
Question Management System
Auto resume allotment with email integration
Employee Referal Resume Collection
Social Media API Integration
Employee Registration & On board Activities
Consultant Login with Job Management
Attendance
Leave Approval Management on Email
Microsoft / Google Calendar Integration
Attendance RFID Device Integration
Payroll
Allowance Deduction Group
Employee Salary Structure
Monthly Salary Calculation
Add-on Modules
Quick Employee Attendance
Customization
---
Let's discuss your Business Requirements, analyze your needs & provide Customized ERP solutions, which suit best to your business.
Let application
Works for you

rather




you work

according to application.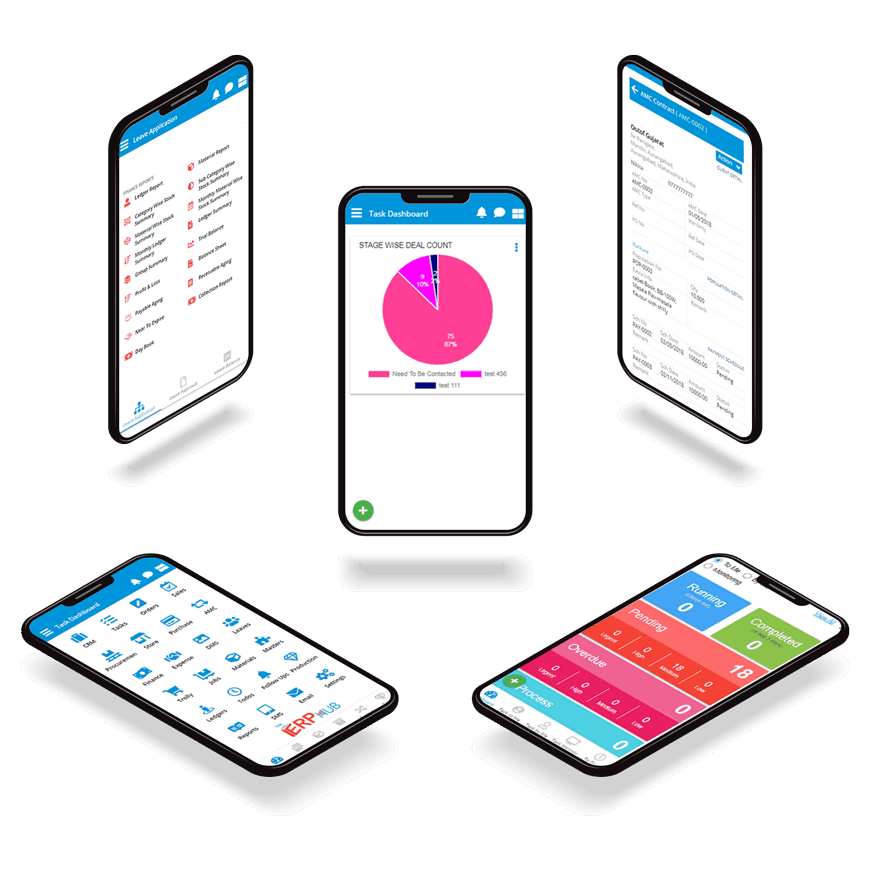 Increased productivity, decrease business downtime, Access your TheERPHub - ERP on your mobile, no matter where you are.Utilize your time while travelling, waiting for meetings, sitting in a warehouse, factory or sales field, get ready with your Order Sales Data, outstanding payment information, Stock availability, keep track of production Employee Tracking.
Follow-Up Using Mobile App

Print and Export Documents

Smart Lead Generation Via Email Reading
Auto Email With Configuration

Dynamic Calender View with Sharing

Email / WhatsApp / SMS Integration

Resume collection via Email Reading
Cloud Based ERP
---
Cloud ERP is Software as a Service (SaaS), Users can access the Enterprise Resource Planning application over the Internet.
Mobile Applications
---
Every Module is having individual Mobile Application.
Scalability
---
Integrated solution with Modular Approach.
Fast and Affordable
---
Easily access all the necessary feature to make business smooth at one centralized system for a low cost.
No Maintenance
---
No installation, no specific hardware required, run from any browser enable devices.
Accessible Anytime, Anywhere
---
We can access ERP anytime on any kind of device.
Customized Solutions
---
Different business different requirements, To scale your business, we can tailor your need into TheERPHub Application.
Auto Backups
---
Business data is too crucial, so automatic data backup is set for every 24 h. Data Redundancy is set for 3 storage drives.
Online / Offline Support
---
For successful implementation of ERP, we provide remote support, phone support and offline support.
Secure and Reliable
---
Data security is on going concern, we used the worlds best cloud to host your data safely.
Real Time Information
---
You can access modified data immediately, So it makes your business well organized.