The most important and time-consuming work in an organization is, to manage the Finances. Financial planning is an important task. TheERPHub Financial Module gives flexibility to work from web and mobile both securely sitting at any place in the word. A Person from a non accounting background can work on the financial Module easily with its pre-defined ledger structure and pre-defined settings which can be modifiable any time. One can complete the financial voucher entry on the spot using mobile application or web platform to reduce the work load at end of month. Different voucher entries can be done by multiple users from multiple locations can reduce the finance and account department task and also give perfect real time data.
Business Financial Management ERP Software Solutions
Q
Are you able to manage your finance without accountant support?
Q
Do you know, current outstanding payable/receivable?
Q
Have you ever seen the Aging analysis for payable or receivable on your mobile screen?
Business Financial Management
ERP Software Module
---
This is the core module of the ERP System. It is a powerful solution for managing the financial part of the business. Financial Module is integrated with many other module of TheERPHub like Sales, Purchase, AMC etc. The Finance module covers many voucher entries like Payment, Receipt, Journal, Contra, Debit Note, Credit Note etc.
Features
---
These were a small number of features but there are various other small fine points available which will make it fit for your association structure.
Easy To Use
With a part load system, your load of variable sizes can be shipped to various locations by transporter. These partial shipments are consolidated and transported to the transshipment point or logistics center from which they are delivered to a designated warehouse. All this is done ensuring safety of your load.
Predefined Settings
Predefined financial Groups, Sub Groups and Ledgers like electricity, sales, wages, loan, taxes, salary, etc. can ease the system and non accounting person to post the voucher entries easily without accruing knowledge which ledger goes to which financial groups.
Payment Voucher Entry
Predefined Setting of Payment Vouchers give ease to enter data easily. One can give payments easily using On Account/Against Invoice/Advance/Against Debit Note/Against Credit Note. Bill to Bill clearance with payment option is available. TDS value will be auto calculated and modifiable which in way update the TDS ledger in background.
Receipt Voucher Entry
Predefined Setting of Receipt Vouchers give ease to enter data easily. One can take receipts easily. Bill to Bill clearance with partial receipt is available.
Contra/Journal Voucher Entry
Contra Entry voucher which keeps a record of the amount withdrawn or deposited in the bank account. Journal Voucher Entry use to transfer amounts between ledgers.
Debit Note/Credit Note
Debit Note and Credit Note vouchers used as sales return and purchase return as well. It will auto populate the data from sales or purchase invoices. Debit Note and Credit Note voucher can effect financial and Inventory both as per the pre-defined settings.
Financial Reports
Financial reports are automatically generated in the system such as Financial Statements, Group Summary, Monthly financial Summary, Ledger Reports, Trial Balance, Profit & Loss and Balance Sheet etc. Pending Receipt and Pending Payment reports with aging analysis give ease for the follow up for collection and payments to be made. For financial data comparisons, comparison charts are available, based on the Date Range wise, weekly, monthly, quarterly, half yearly, yearly or combination of all.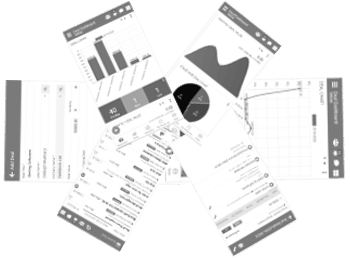 Finance Management Mobile App
Most the of the feature will work from the mobile application as well so once can add/edit/view/delete records as per rights from the mobile application as well.
Mainly it is used to see Pending Payment, Pending Receipt. Also one can generate receipt and payment voucher entries from the Mobile itself.
Receipt and Payment Print can be easily emailed from the mobile itself using email templates.
Customization
Customization for entries, reports or new development as per teller made requirements are possible with Financial Modules which won't disturb your own working style.
Integrated supportive modules which you can opt anytime.
SMSs and Emails
Using pre-defined templates for each voucher once can SMS or email details as per requirement including voucher prints. Work automation rules can automate the tasks of SMS, Email and Notifications generation automatically on save of records.
Follow Up
Using Follow up, System can auto remind you and keep track of conversation with the parties for payment, receipt, credit note and debit note.
Comment
This feature enable you to store life time comments and attachment on any voucher entry records. Also it generates notifications to the concern users automatically.
Best Finance Management ERP Software For Every Business
Look at Our Managing finances can be overwhelming and time-consuming. With our Finance Management software, you can streamline financial processes, saving you time and money. Our Finance Management software is designed to make financial management easy and efficient. Watch the video for more information. Get a free demo now.
Features of Finance Management Software:
Advanced accounting & finance
Cost center management
Budget management
Streamline financial processes
Manage all financial transactions
Track the status of your invoices
Generate payment and receipt
Register reports for all vouchers
Range of other useful reports
" A penny saved is a penny earned. "