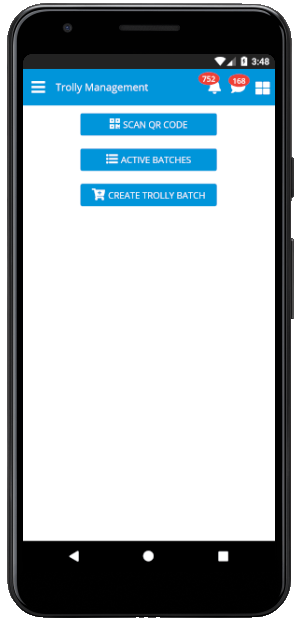 DASHBOARD
Scan QR Code to Update Batch Stage, Show Active Batches, Create New Trolly Batch Options.
SCAN QR CODE
It will scan QR Code from the Trolly, Recognize it, check for the right stage to update if not then give message else it will update the current date & time and forward the stage ahead.
ACTIVE BATCHES
Show list of active batches with the current stage. You can update the stage by click update button or you can discard the batch. One can Edit and Delete the batch as well.
CREATE TROLLY BATCH
Create a new batch for the trolly, if active batch present it will not allow to create batch.
Trolly

Module
---
One of the most demanding modules in any organization to create high performance environment is Order Management System (also known as OMS) module. Traders, Manufactures or service industries use this module to track the progress of each order in a very easy way. So, from ensuring / notifying the merchant regarding the order, to check the warehouse for availability, to check the performance of sales representative, all is done by Order Management System.
Mobile Application Rights Management
MENU & NOTIFICATIONS
RIGHTS
All Mobile Applications will work as per rights are given on web application. To get the effect of modified rights, one need to logout and login again to the mobile application.
Notifications: You will receive all kindly of notifications installing any TheERPHub Mobile Application but you can see notification detail based on the app you have installed.
Mobile Application will show data in some modules as per SHOW DATA fields in Employee Master, means if you have selected.
Hierarchical: Shows own and downward line employees data
Own: Only data entered by me