printing jobs management mobile application
Printing Jobs Management

Mobile Application
---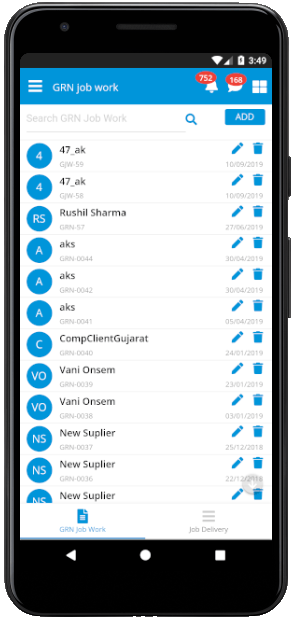 DASHBOARD
Shows Pending list of job work about to come from the multiple suppliers. Shows today's job delivery pending list.
GRN JOB WORK
Once Material received, we can prepare GRN using QR Code easily. If any material is wrongly entered or twice entered it will popup the error. Once process complete, the stock is ready for the delivery.
JOB DELIVERY
Manually or Using QR Code one can generate the Job Delivery. Job Delivery also shows remaining payment for the job and make the receipt in the background.
Printing Jobs

Module
---
Printing Jobs module is like a POS kind of system which is used by Printers to manage their deigning and printing jobs. Printers who are actually having products like Visiting Cards, Brochure Design, Twofold/Threefold/Fourfold pamphlets, Latter Pad, OFFSET Bill book, Sticker, Hand bills etc uses this module to manage their jobs.
Mobile Application Rights Management
MENU & NOTIFICATIONS
RIGHTS
All Mobile Applications will work as per rights are given on web application. To get the effect of modified rights, one need to logout and login again to the mobile application.
Notifications: You will receive all kindly of notifications installing any TheERPHub Mobile Application but you can see notification detail based on the app you have installed.
Mobile Application will show data in some modules as per SHOW DATA fields in Employee Master, means if you have selected.
Hierarchical: Shows own and downward line employees data
Own: Only data entered by me