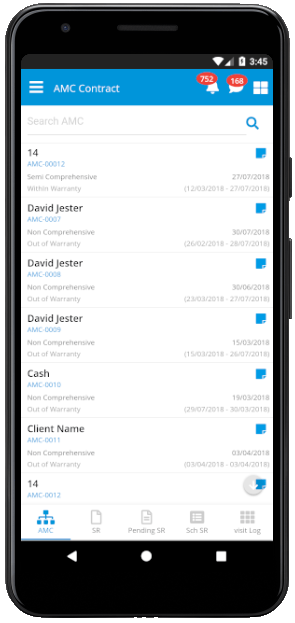 AMC
List of AMC contract with filtration options like Near To Expiry, In Force, Expired, Out of Warranty, With In Warranty, Comprehensive, Non-Comprehensive etc.Get the detail of AMC contract on a fingertip.
SERVICE REQUEST
Add/Edit/Delete Service Request from the Mobile Application. Search with Client Name, Visit Type, Status, Date Range etc.
PENDING SERVICE REQUEST
Shows list of pending Service Request needs to be attended by the engineer. Schedule Service Request from the list assigning engineer and schedule date time.
SCHEDULE SERVICE REQUEST
Every engineer will be able to see it's service request which he has to attend during the day. The engineer can see the detail of the Service Request and Create Visit Log entry.
VISIT LOGs
Add/Edit Visit log from the mobile application. Search Visit Logs by the client, Date Range etc.
COMMENT and ATTACHMENT
Add discussion with lead using comment module for future references.If DMS Module is purchased you can attach multiple documents with Deals, Tasks or Quotations for future reference and quick access anytime anywhere.
Mobile Application Rights Management
MENU & NOTIFICATIONS
RIGHTS
All Mobile Applications will work as per rights are given on web application. To get the effect of modified rights, one need to logout and login again to the mobile application.
Notifications: You will receive all kindly of notifications installing any TheERPHub Mobile Application but you can see notification detail based on the app you have installed.
Mobile Application will show data in some modules as per SHOW DATA fields in Employee Master, means if you have selected.
Hierarchical: Shows own and downward line employees data
Own: Only data entered by me