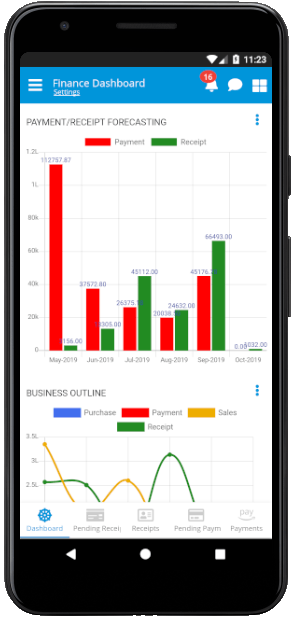 DASHBOARD
Shows Payment/Receipt Forecasting Chart, Business Outline Chart, Receivable Aging, Payable Aging, Cash flow chart with multiple filtration options.
RECEIPTs/PAYMENTs
Add/Edit/Delete Receipt/Payment with (Advance/Against Invoice/On account) Options. Advance Search Party wise, Date range wise etc.
CONTRA/JOURNAL
Add/Edit/Delete Contra/Journal entries. Advance Search Party wise, Date range wise etc.
CREDIT NOTE/DEBIT NOTE
Manage your Credit Note/Debit Note with Inventory and finance management right from the mobile application. Create Credit/Debit note against Sales/Purchase invoices.
PENDING RECEIPTs/PAYMENTS
Shows list of a total outstanding Sales/Purchase invoices with the remaining amount. Call or Email from the list directly and manage your follow-ups for the outstanding amount.
REPORTs
Now you can see Balance Sheet, P & N Account, Trading Account, Group Summary, Ledger Summary, Ledger Report, Client wise outward, Supplier wise inward report etc.
FOLLOW-UPs
Shows missed and upcoming follow-ups. Manage follow-ups from the dashboard itself. You will never miss follow up as it notifies you even if your app is closed.
COMMENT and ATTACHMENT
Add discussion with lead using comment module for future references. If DMS Module is purchased you can attach multiple documents with Deals, Tasks or Quotations for future reference and quick access anytime anywhere.
Finance Management Software

Mobile Application Module
---
The most important and time-consuming work in an organization is, to manage the Finances. Financial planning is an important task. TheERPHub Financial Module gives flexibility to work from web and mobile both securely sitting at any place in the word. A Person from a non accounting background can work on the financial Module easily with its pre-defined ledger structure and pre-defined settings which can be modifiable any time. One can complete the financial voucher entry on the spot using mobile application or web platform to reduce the work load at end of month. Different voucher entries can be done by multiple users from multiple locations can reduce the finance and account department task and also give perfect real time data.
Mobile Application Rights Management
MENU & NOTIFICATIONS
RIGHTS
All Mobile Applications will work as per rights are given on web application. To get the effect of modified rights, one need to logout and login again to the mobile application.
Notifications: You will receive all kindly of notifications installing any TheERPHub Mobile Application but you can see notification detail based on the app you have installed.
Mobile Application will show data in some modules as per SHOW DATA fields in Employee Master, means if you have selected.
Hierarchical: Shows own and downward line employees data
Own: Only data entered by me