Wholesale Distribution Erp Software
Easy ERP for Traders, Distributors and Retails.
Easy implementation, affordable price and reliable to use.
TheERPHub - ERP for small,medium & large organizations.
Manage supply chain management in a seamless manner.
Best
Wholesale Distribution Erp Software

For Small To Large Business
Are you Looking For the best Wholesale Distribution Erp Software in India? TheERPHub offers the best cloud-based customized ERP software for Wholesale Distribution business at an affordable range. Our Wholesale Distribution Erp Software is made with advanced functions with advanced Security features like Database Security, File Storage Security, Accessing Resources, User Rights, Access logs, and IP Restrictions.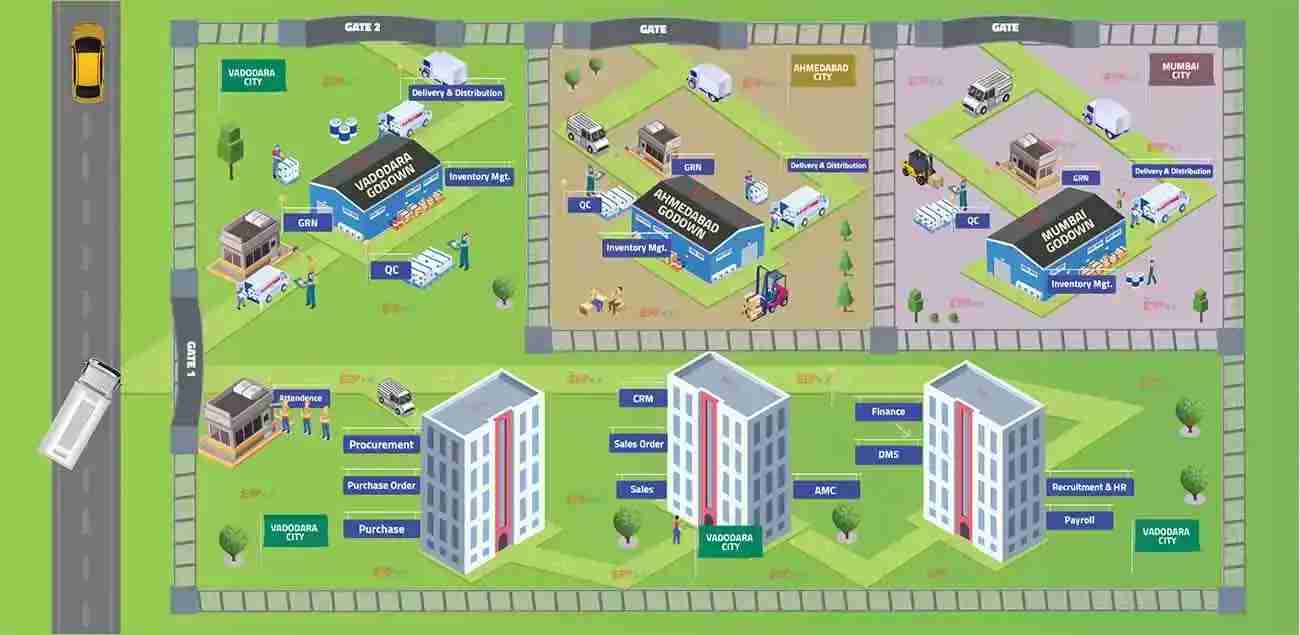 Main Modules Of
Wholesale Distribution Erp Software Business
---
Auto Deal Creation through Email Integration
Create Order from Quotation
Lock Inventory based on Orders
Partial / Full Order Cancellation
Purchase Order Against Order
Sales Representative Wise Orders
Truck Hire with Transport Detail
Create Delivery Challan from Order
Eway Bill Integration with Delivery Challan
Create Invoice from Delivery Challan
E-Invoicing & E-Way Bill Integration
Partial / Full Purchase Order Cancellation
Inventory & Quality Control
Attribute Based Stock Management
Batch - Expiry wise Stock Management
Godown / Site wise stock Management
Goods Receive Note (GRN/MRN)
Service Entry Sheet (SES)
Physical Stock Verification
Godown to godown Transfer
Godown wise order level Report
Purchase Invoice (URD/ Composition)
Purchase Invoice (Exempted)
Purchase Material Analysis
Financial Sub Group Report
Bills Receivable / Payable
Material Estimation Based On BOM
Pending QC (Material Produce)
Process Wise Wages Report
Production Calculation Report
Annual Maintenance Contract
Service Request Management
Engineer Service Request Allotment
Document Management (DMS)
Public / Private / Self DMS Category Creation
Integrated with All modules
Order and Drawing documents
Notification & Communication
In-app Notification System
Interview Round Management
Question Management System
Auto resume allotment with email integration
Employee Referal Resume Collection
Social Media API Integration
Employee Registration & On board Activities
Consultant Login with Job Management
Leave Approval Management on Email
Microsoft / Google Calendar Integration
Attendance RFID Device Integration
Allowance Deduction Group
Employee Salary Structure
Monthly Salary Calculation
Employee / Client Target Management System
Marketing Expense Management
Quick Employee Attendance
Labour Attendance & Salary
Customization ERP Software
---
Let application
Works for you

rather




you work

according to application.
Let's discuss your Business Requirements, analyze your needs & provide Customized ERP solutions, which suit best to your business.
TheERPHub is conscious that there is an immense dissimilarity among every business setup, and it occurs due to the variation in the working style management of each company. Thus, in the ERP world mostly the software becomes incompatible to fit every business model and fails to serve its purpose. So, we came up with a solution to this problem. That is if your business model does not fit into this software then we will system study and gather your requirements and give teller-made solutions on top of TheERPHub for you. This means we will customize the ERP software as per necessitate of your business replica.
Customization ERP Software
---
Wholesale Distribution Erp Software
Mobile Application
---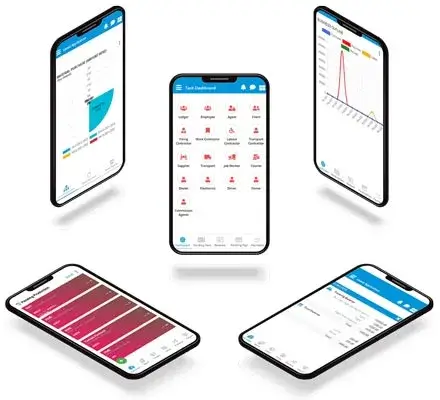 Increased productivity, decrease business downtime, Access your TheERPHub - ERP on your mobile, no matter where you are.Utilize your time while travelling, waiting for meetings, sitting in a warehouse, factory or sales field, get ready with your Order Sales Data, outstanding payment information, Stock availability, keep track of production Employee Tracking.
Features Of Our Wholesale Distribution Erp Software
---
Follow-Up Using Mobile App

Print and Export Documents

Smart Lead Generation Via Email Reading
Auto Email With Configuration

Dynamic Calender View with Sharing

Email / WhatsApp / SMS Integration

Resume collection via Email Reading
Advantages of the Best
Wholesale Distribution ERP Software

in India
---
The Material Requirements Planning (MRP system) module allows efficient scheduling, production planning and stock control to simplify Wholesale Distribution processes. It optimizes inventory levels, minimizes delivery times and maximizes service levels to increase business efficiency. It provides cloud-based Wholesale Distribution ERP software and on-premises ERP software for small Wholesale Distribution businesses as well.
Morden, Integrated, Cloud-based Wholesale Distribution ERP has many Operational & Financial benefits. Data at first glass gives your business tremendous growth and business insight.
Centralized Operation & Financial information gives enhanced visibility, transparency and ease of work.

Eliminates multiple systems and software.

All services are under one roof.

Realtime information anywhere anytime.

Stabilize and improve supply chain, warehouse, transportation, finance and inventory management

Removes redundancy and automates the business processes
Automation
---
ERP software for the Wholesale Distribution industry can help to automate certain processes. This can help to reduce the amount of time it takes to complete production tasks, as well as reduce the amount of manual labor required.
Flexibility
---
ERP software for the Wholesale Distribution industry can also provide flexibility. The software can be customized to meet the specific needs of each company, allowing companies to tailor the software to their specific production processes.
Scalability
---
ERP software for the Wholesale Distribution industry can also provide scalability.This can help to ensure that the software is able to keep up with the changing needs of the business and provide the necessary support and assistance.
Increased Accuracy
---
Wholesale Distribution ERP software also helps to increase accuracy in production. The software can be used to track the various processes involved in production, such as the number of parts used, the amount of time spent on each task, and the quality of the finished product. This can help to ensure that the goods produced are of the highest quality and that any issues can be quickly identified and addressed.
Improved Efficiency
---
Wholesale Distribution ERP software helps to improve the efficiency of production processes. It can help to streamline the various processes involved in production, such as inventory management and order tracking. This can help to reduce the amount of time it takes to complete production tasks, ultimately allowing companies to produce more goods in less time.
Streamlined Processes
---
ERP software can also help to streamline processes. Based on Setup time, cycle time, Fix cost and variable cost It calculates machine cost and machine production time, Which can help to predict production timeline and upcoming order delivery time. It helps to keep track of process inventories and time consume by Machines and Labours.
Real Time Information
---
ERP is designed with comprehensive features such as quick Real Time report.You can access modified data immediately, So it makes your business well organized.
Cloud Based ERP
---
Cloud ERP is Software as a Service (SaaS), Users can access the Enterprise Resource Planning application over the Internet.
Fast and Affordable
---
Easily access all the necessary feature to make business smooth at one centralized system for a low cost.
Customized Solutions
---
Different business different requirements, To scale your business, we can tailor your need into TheERPHub Application.
Auto Backups
---
Business data is too crucial, so automatic data backup is set for every 24 h. Data Redundancy is set for 3 storage drives.
Online / Offline Support
---
For successful implementation of ERP, we provide remote support, phone support and offline support.
Accessible Anytime, Anywhere
---
We can access ERP anytime on any kind of device.
Mobile Applications
---
Every Module is having individual Mobile Application.
No Maintenance
---
No installation, no specific hardware required, run from any browser enable devices.
Advance Security Features
---
It is designed in a manner to sustain the information extremely protected. We have an entire team working on maintaining the security system at its best throughout. Since all the business data like financial reports, other business documents, and accounts are all stored in the cloud ERP software. Every client registered with us is having a separate database for their data storage.Application, File Storage and Database run in a different environment so it will give you more secure, high performance while accessing the application.
Secure and Reliable
---
Key security features which prevent unauthorized access to the web and mobile applications are User Rights, IP Restrictions, Accessing Resources, User Rights, Access Logs,and hourly-based record editing options. we used the worlds best cloud to host your data safely.
Benefits of
On-Premise

Wholesale Distribution ERP Software
---
On-premise Wholesale Distribution ERP Software offers organizations a number of benefits, including improved efficiency, cost savings, scalability,and more.

ERP helps organizations streamline their operations, allowing them to manage their resources more effectively and reduce costs.

It also provides better visibility into operations, allowing businesses to make better decisions based on real-time information.

Additionally, on-premise Wholesale Distribution ERP Software is more secure than cloud-based systems, as data is stored and managed on the organization's own servers. This helps organizations protect their data and ensure that only authorized personnel have access to it.
Benefits of
SaaS Based Wholesale Distribution

ERP Software
---
One of the main advantages of SaaS based Wholesale Distribution ERP software is that it is much more cost-effective than traditional on-premise ERP solutions. SaaS based Wholesale Distribution ERP software does not require the purchase of any hardware or software, and it is easy to set up and use.

Additionally, the cost of maintenance and upgrades is much lower than that of on-premise ERP solutions. Furthermore, SaaS based Wholesale Distribution ERP software is more reliable than traditional solutions, as it is hosted on the cloud and is continuously monitored by the provider.

It can provide a wide array of benefits to businesses. First, the software can help businesses to reduce costs, save time and money.Additionally, the software can provide businesses with real-time data, allowing them to make informed decisions quickly. This can help businesses stay ahead of their competition.
Other Trading & Distribution

Industries ERP
---
Wholesale Distribution Erp Software
FAQs
---
ERP stands for Enterprise Resource Planning, It is basically nothing but software or application which can plan, manage and deliver integrated yet department-specific functionalities that supports wholesale trading & distribution business processes. In today's Era Where Demand, Supplies, and Employment change frequently, Wholesale Trading & Distribution ERP is a backbone that increases organisational efficiency, improves quality & Performance, reduces unnecessary repetitive tasks, and gives centralised & uniform data which boosts wholesale trading & distribution growth and profitability.
To determine where we get the most value out of investment for your business we need a modern ERP system.
Gain access to operational & financial information anytime anywhere.

Extensive supply chain management with inventory visibility with godown & transport management.

To improve customer satisfaction with one click of supply and demand details.

Work seamlessly across multiple locations.

To grow business, budget management, detailed forecast, real-time sales and other data, material requisition planning.

How company resources are utilised.
Day-to-day technology evolves with better services, security, flexibility and reliability. One must use a cloud-based approach to production and all other departments to guarantee
Seamless department integration.

Realtime work for multi-location

Access information anytime anywhere with any type of device.

Lower infrastructure running cost

Cloud ERP adjusts companies' requirements quickly as a company grows

Take action quickly and tasks can be done in minutes.
Data hosted on words best cloud AWS.

Each department is seamlessly connected under one roof.

User-friendly, device-friendly & Role-based access.

Cloud can be converted to on-premises or on-premises can be converted to cloud-based.

Customized modules as per requirements or develop new modules and integrate them.

The pay-as-you-use model means you can opt for a few modules, and later add on more modules and users as per the requirement to save the cost.

Best support via Ticket System, Phone Support, Remote & Offline.
TheERPHub is SAAS Based ERP Software product by SterSoft Solutions PVT. LTD Company. (Formally known as Sterling Softwares) which majorly operates on principles that involve the creation and development of web/mobile applications for a wide range of industries. The company works on all the emerging technologies, to provide its customers with attractive and highly up-to-date software or web applications for the last 22 years. TheERPHub has a team of quality experts, whose main motive is to provide customers with the latest application-software technology at affordable rates. The company has designed a unique ERP software solution that caters to a wide variety of industries bit manufacturers, Traders, Service providers and transporters.
SaaS based Wholesale Distribution ERP software is a type of cloud-based rental-base software that allows businesses to manage their operations more efficiently. This type of software is accessed through the internet, and it provides businesses with a comprehensive and centralized platform to manage their operations. The software includes features such as customer relationship management (CRM), Finance & accounting, inventory management, MRP, production management, and more. SaaS based Wholesale Distribution ERP software is designed to help businesses streamline their processes, reduce costs, and improve efficiency.
On-premise Wholesale Distribution ERP Software is an enterprise resource planning system that is installed and operated on the organization's own servers and infrastructure. It is a comprehensive business management system that helps organizations better manage their operations, streamline processes, and improve performance. On-premise Wholesale Distribution ERP Software can include modules such as customer relationship management (CRM), accounting and finance, human resources, supply chain management, MRP, Production and more. It is designed to integrate seamlessly with existing systems and processes, making it easier for businesses to keep track of their resources and operations.