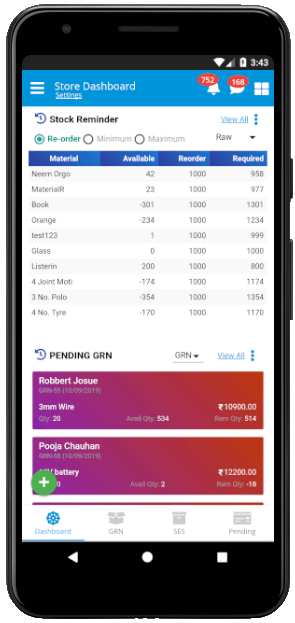 DASHBOARD
Shows Minimum Level, Re-Order Level, Maximum Level Stock Reminder Real time basis. Show Pending GRN and Overdue Purchase Orders.
MATERIALs
Add/Edit/Delete All type of Material Category, Material Sub Category, Groups and Items easily from the mobile application.
GRN/SES
Add/Edit/Delete GRN using Manual Mode/QR Code of Purchase Order No/by selecting Purchase Order No. Search GRN/SES using Supplier, Purchase Order No, GRN Date Range etc.
PENDING GRN/SES
Shows list of Purchase Order Issue and Purchase Order SES which GRN are not made. Create GRN from Pending Purchase Order with few clicks.
REPORTs
Can see Available Stock Reports, Material Inward - Outward Reports, Client wise Inward, Supplier wise Outward, Material wise In-Out Report.
FOLLOW-UPs
Shows missed and upcoming follow-ups. Manage follow-ups from the dashboard itself. You will never miss follow up as it notifies you even if your app is closed.
COMMENT and ATTACHMENT
Add discussion with lead using comment module for future references. If DMS Module is purchased you can attach multiple documents with Deals, Tasks or Quotations for future reference and quick access anytime anywhere.
Stock and Store Management Software

Mobile Application Module
---
The organization can be big or small but the inventory management is always a very tricky and tough task. But now this trouble resolved by TheERPHub already. So, from this moment relax and only focus on your customer service as well as forget about your messy stock. That will be organized by our inventory module in most excellent and easiest manner. This Highly extensive and detailed Inventory Management System will be easily used by any type of organization to manage the quantities of inventories in the present stock, to avoid the chances of overstocking and shortage. Stop wasting time on stock management, your center of attention should be in business more.
Mobile Application Rights Management
MENU & NOTIFICATIONS
RIGHTS
All Mobile Applications will work as per rights are given on web application. To get the effect of modified rights, one need to logout and login again to the mobile application.
Notifications: You will receive all kindly of notifications installing any TheERPHub Mobile Application but you can see notification detail based on the app you have installed.
Mobile Application will show data in some modules as per SHOW DATA fields in Employee Master, means if you have selected.
Hierarchical: Shows own and downward line employees data
Own: Only data entered by me