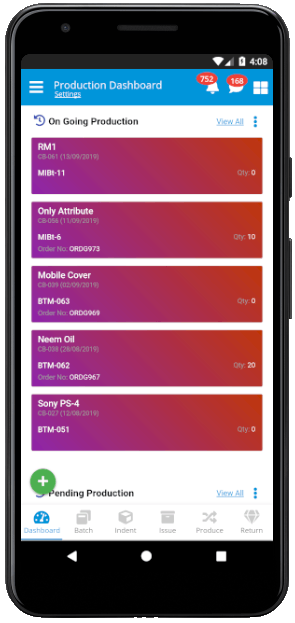 DASHBOARD
Show Ongoing Production, Pending Production, Pending Orders for Production, Pending Process Counts etc.
PRODUCTION PLANNING
Add/Edit/Delete Batch from the Mobile Application, Filtration options like Today, Yesterday, This Week, This Month etc.
MATERIAL INDENT
Add/Edit/Delete Material Indent for production from the mobile application. Print or Email Indent for Approval confirmation or send it to store for further process.
MATERIAL ISSUE
The store can issue material based on Batch No or Material Indent, it will auto check available stock and update while generating the material issue.Edit, Delete, Print, Email and Multiple Filtration option available.
MATERIAL PRODUCE
After the process completes, shop floor in-charge can produce the material in a way it will increase the inter-media or finish product stock. One can generate print or email the material produce sheet from the application.
MATERIAL RETURN
After the process completes, the remaining material can be return back to store using Material return which one can Add/Edit/Delete from the application.
COMMENT and ATTACHMENT
Add discussion with lead using comment module for future references. If DMS Module is purchased you can attach multiple documents with Deals, Tasks or Quotations for future reference and quick access anytime anywhere.
Production Management Software

Mobile Application Module
---
Production and planning module is the nervous system of the Production process. TheERPHub understands the significance of it that is why, after analyzing all the requirements thoroughly we created this exclusive Production and planning module. PPM(Production and planning module ) which will integrated with other major modules to help it in handling all production, planning, data, management etc by its own. Here you can modify the utilization of manufacturing capacity, components, inputs, outputs, by-products, overheads, material resources using previous production data etc. This tool helps an organization to plan production with the optimum utilization of all available resources.
Mobile Application Rights Management
MENU & NOTIFICATIONS
RIGHTS
All Mobile Applications will work as per rights are given on web application. To get the effect of modified rights, one need to logout and login again to the mobile application.
Notifications: You will receive all kindly of notifications installing any TheERPHub Mobile Application but you can see notification detail based on the app you have installed.
Mobile Application will show data in some modules as per SHOW DATA fields in Employee Master, means if you have selected.
Hierarchical: Shows own and downward line employees data
Own: Only data entered by me