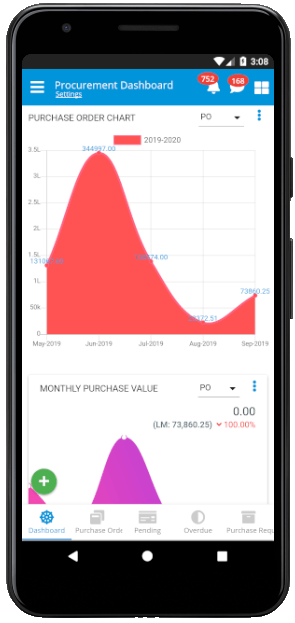 DASHBOARD
Shows Purchase Order Chart Daily/Weekly/Monthly/Quarterly/Half Yearly/Yearly with your desired chart type and comparisons. Shows Pending Purchase Order, Overdue Purchase Orders and Pending Requisition.
PURCHASE ORDER/SES
Add/Edit/Delete Purchase Order from the application easily. Search Purchase Order based on Client, Material, PO Date Range etc.
PURCHASE REQUISITION
Add/Edit/Delete Purchase Requisition from the application easily. Search Purchase Order based on Client, Sales Order, Order Job No, Requisition Date Range etc.
OVERDUE PURCHASE ORDER
Overdue Purchase Orders with ageing filtration options. Even you can search future overdue orders for projection. Show since how long Overdue is also.
PENDING PURCHASE ORDER
Shows list of Purchase Order Issue and Purchase Order SES which GRN are not made. On a single click, you can call or email to the respective client or its contact for follow-up.
FOLLOW-UPs
Shows missed and upcoming follow-ups. Manage follow-ups from the dashboard itself. You will never miss follow up as it notifies you even if your app is closed.
COMMENT and ATTACHMENT
Add discussion with lead using comment module for future references. If DMS Module is purchased you can attach multiple documents with Deals, Tasks or Quotations for future reference and quick access anytime anywhere.
Procurement Management Software

Mobile Application Module
---
Procurement module in TheERPHub manages all procurement-related activities such as evaluation, selection, supplier relationship, managing vendors, to raising RFQ etc. electronically without manual effort. Thus now eases down your administrative burden and own an easiest working system which can be operated from your phone too. TheERPHub Procurement module provides all these features along with some other key characteristics such as RFQ and Vendor Registration etc.
Mobile Application Rights Management
MENU & NOTIFICATIONS
RIGHTS
All Mobile Applications will work as per rights are given on web application. To get the effect of modified rights, one need to logout and login again to the mobile application.
Notifications: You will receive all kindly of notifications installing any TheERPHub Mobile Application but you can see notification detail based on the app you have installed.
Mobile Application will show data in some modules as per SHOW DATA fields in Employee Master, means if you have selected.
Hierarchical: Shows own and downward line employees data
Own: Only data entered by me