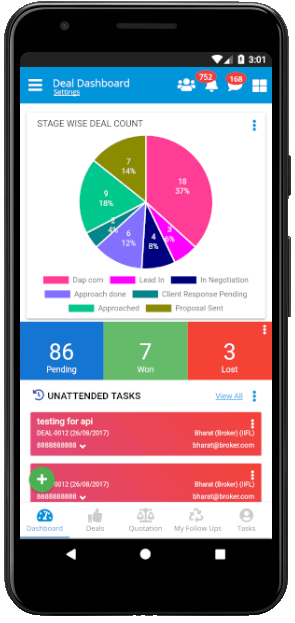 MANAGE DEAL
Multiple employees can manage their own deals stage wise. Lead and Lead Organization can be managed easily. Show Pending, Lost and Won Deals.
CAMPAIGN
Manage Campaign Type and Campaigns. Use a campaign while creating deals.
QUOTATION
Prepare and Email Quotations from mobile applications. Quotation negotiations and import and add options to quickly make new quotations.
FOLLOW-UP
Shows missed and upcoming follow-ups. Manage follow-ups from the dashboard itself. You will never miss follow up as it notifies you even if your app is closed.
TASK
Shows upcoming and unattended tasks. Assign the task to others. Shows your pending/on hold/in process/completed tasks.
COMMENT and ATTACHMENT
Add discussion with lead using comment module for future references. If DMS Module is purchased you can attach multiple documents with Deals, Tasks or Quotations for future reference and quick access anytime anywhere.
CRM Mobile

Application Module
---
CRM stands for Customer Relationship Management, the way businesses interact with present and future customers. Therefore, CRM module is a tool or a technical system that automates and integrates your customer dealing activities like sales, marketing, and customer service. The CRM modules handles the whole hierarchy of the department or 2-3 people in the department or organization, therefore it is useful for all types of organization.
Mobile Application Rights Management
MENU & NOTIFICATIONS
RIGHTS
All Mobile Applications will work as per rights are given on web application. To get the effect of modified rights, one need to logout and login again to the mobile application.
Notifications: You will receive all kindly of notifications installing any TheERPHub Mobile Application but you can see notification detail based on the app you have installed.
Mobile Application will show data in some modules as per SHOW DATA fields in Employee Master, means if you have selected.
Hierarchical: Shows own and downward line employees data
Own: Only data entered by me