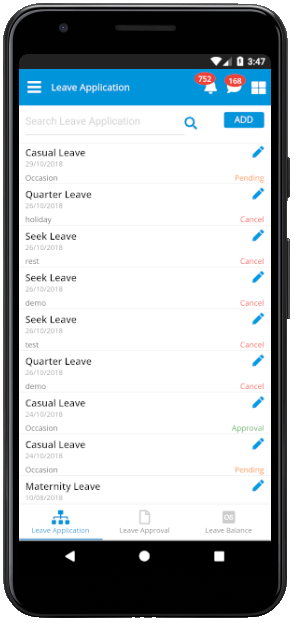 ATTENDANCE AND LEAVE APPLICATION
An employee can request for half-day, single day or multi-day leave application from the mobile. While making a leave application, the system will auto-populate the leave reserves.
LEAVE APPROVAL
Leave approver will be notified for the leave application. He can approve or reject the application in turn it will be notified to the Leave applicant.
LEAVE BALANCE
The system will show logged in user Leave balance, Leave Type wise. Shows Total, Used, Balance, CF, Encash Leave Type Wise.
Attendance Management Software

Mobile Application Module
---
ETo preventing loss of employee time, the company need to track the employee working hours, login time, departures, breaks, and time off. Because it directly affects the productivity of any worker. And doing it manually is the toughest task for any organization. Ideally, the attendance systems and solutions can be applied in various organizations and corporate companies to lend a hand to the everyday challenges in company management plus to improve the business operations. Organizations use a lot of methods for example punching cards, spreadsheets to automated attendance management systems and bio-metric devices to manage employee attendance.
Mobile Application Rights Management
MENU & NOTIFICATIONS
RIGHTS
All Mobile Applications will work as per rights are given on web application. To get the effect of modified rights, one need to logout and login again to the mobile application.
Notifications: You will receive all kindly of notifications installing any TheERPHub Mobile Application but you can see notification detail based on the app you have installed.
Mobile Application will show data in some modules as per SHOW DATA fields in Employee Master, means if you have selected.
Hierarchical: Shows own and downward line employees data
Own: Only data entered by me