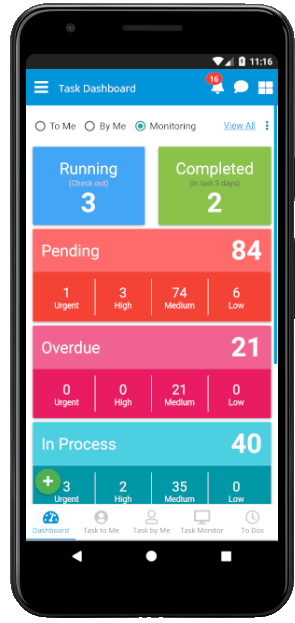 DASHBOARD
Shows currently running tasks and completed tasks in the last 3 days. Shows Pending, Overdue, In Process, On Hold, Cancelled with counts. It also shows Urgent, High, Medium and Low priority task counts. One can see Task to me, Task by me or monitor other's tasks if you have rights. Assign task to anyone anywhere anytime without forgetting it.
TASK TO ME
It shows tasks for me assigned by others or myself as well. It shows tasks status wise like All/Checkout/Pending/In Process/Completed/On Hold/Cancelled/Overdue.
TASK BY ME
It shows tasks assigned by me to others or myself as well. It shows tasks status wise like All/Checkout/Pending/In Process/Completed/On Hold/Cancelled/Overdue.
MONITORING
If you have rights you can monitor tasks of others. you can see detail of each task including, how much time he has spent on task, how many times and on which dates he work on it. Also, you can give comments and add documents to tasks.
TO-DO
Prepare unlimited LIST and add unlimited to-dos on the list. One can define the due date and also add a description to the to-dos. You can complete the to-dos and also filter to-dos with different options.
COMMENT and ATTACHMENT
Add discussion with lead using comment module for future references. If DMS Module is purchased you can attach multiple documents with Deals, Tasks or Quotations for future reference and quick access anytime anywhere.
Activity & Task Management Software

Mobile Application Module
---
This is an Activity planner module that helps effectively organize and manage everyday tasks by using functions such as task creation, planning and assignment, tracking, reporting etc. Now you do not have to worry about keeping eye on the performance of your each employee and assigning the best possible task to them. Because this module will keep informing you for all these activities to you.Like: how much work is done by each employee and what sort work they are doing, all the pending tasks and how much time and man power is being consumed for fulfilling one customer's task and a lot more. Even an individual or team leader can track or assign a task or a project and can take decisions based on the progress of the project. So, it's time to make your team more productive. And the best part is with this module there is some other enthusiastic modules (DMS Module, Comment module) are integrated which going to make it complete solution for work management in your organization.
Mobile Application Rights Management
MENU NOTIFICATIONS
RIGHTS
All Mobile Applications will work as per rights are given on web application. To get the effect of modified rights, one need to logout and login again to the mobile application.
Notifications: You will receive all kindly of notifications installing any TheERPHub Mobile Application but you can see notification detail based on the app you have installed.
Mobile Application will show data in some modules as per SHOW DATA fields in Employee Master, means if you have selected.
Hierarchical: Shows own and downward line employees data
Own: Only data entered by me